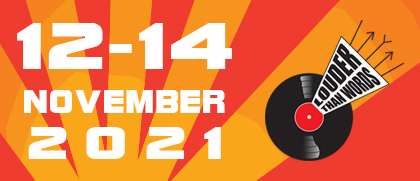 Many thanks for all you interest, feedback and support! Following the pandemonium of the pandemic, the success of our 2020 on-line Festival and all your suggestions for what we can do moving forwards, we're delighted to announce the launch of our Louder Loyalty Club!
From March 2021, we'll be hosting a series of monthly on-line events including in conversations, panel discussions, workshops and more! We'll be host to new book launches with associated book discounts (including some very special limited editions), direct Q/A opportunities with authors and contributors and a host of additional treats and new opportunities for Club Members at our annual Festival each November!
Our monthly events are available at a 40% discount when you sign up for the annual Louder Loyalty Club or as individual events per month as you prefer
Our 2021 Festival will take place online and in person 12-14 November – watch this space for further details!
Our first monthly event will take place 8pm GMT, Thursday 25th March with the mighty Don Letts in conversation with John Robb.
Our April event will be a book launch special with Lee Thompson of Madness – Thursday 22nd April, 9pm GMT.

Our May event will be a special in conversation with Mat Osman and Zoë Howe – Thursday 20th May, 8pm GMT
To join our Louder Loyalty Club, simply click here and purchase your annual Pass: tinyurl.com/y9f3xjxk
We'll send you all the access details ahead of each monthly event as well as associated discount codes for a range of assets and benefits.
By joining our Louder Loyalty Club you'll also be helping to secure our future development and our ability to bring you high quality events in high quality settings and/or via high quality technology.
Many thanks again for your support – we're delighted to invest, improve and indulge with you all!