Dear Louder Lovers,
In response to the ongoing pandemic and the ever-changing restrictions and adaptations we are all having to make, we are now delighted to share news that #Louder2020 will be a fully on-line experience for all concerned: #LouderOnLine2020.
The Festival will still run over the weekend of Saturday 7th & Sunday 8th November, across which we will have a full programme of events, including the opportunity to purchase associated books at a discounted price where applicable.
Dedicated Weekend Passes will be available for purchase from Monday 28th September, with programme details and other ticket options being announced from this date onwards.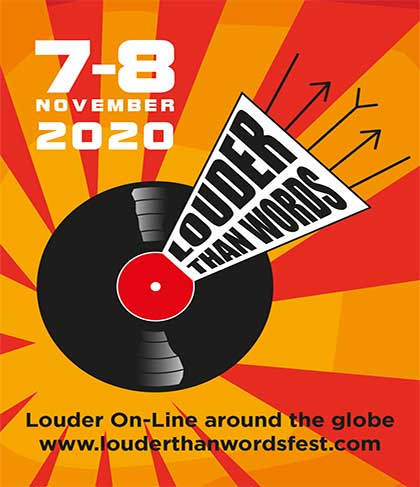 Our 2020 weekend Festival is fully on-line, enabling us to engage with contributors, audiences, participants and the intrigued from across the globe. As ever, we'll be meeting to hear, share, discuss and celebrate the very best of published and unpublished words associated with those at the heart of the music and popular culture industries – see you online!
.
THE GENRE-BASED LITERARY FESTIVAL CELEBRATING WORDS – ORAL, WRITTEN AND PUBLISHED
– ASSOCIATED WITH THE MUSIC INDUSTRY