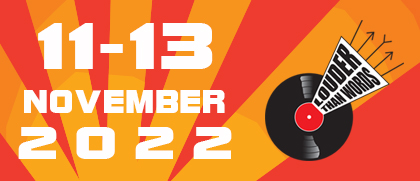 Join the Team at Louder Than Words Literary Festival and become one of our fantastic volunteers, without whom our festival weekend wouldn't be possible.
Calling all music and literary fans!

Louder Than Words Festival is back in Manchester and we are looking for volunteers to help deliver the weekend festival from Friday 11th – Sunday 13th November at The Innside Hotel, Manchester and also livestreamed around the globe!
Featuring talks, workshops, in conversations, performances and panel discussions, this high quality literary festival celebrates words – oral, written and published – associated with the music industry. See our listings for the events that have been announced so far.
We have a variety of exciting volunteer roles available, assisting with Front of House, Reception/Box Office, Stage Management, Contributor Liaison, AV Support, Social Media, Tech Support and Photography and Videography.
In return for your time, you will receive a FULL WEEKEND PASS giving you a chance to enjoy the Festival events across the 3 dates.
Further information about the volunteer roles and to sign up go to:
https://forms.gle/pPeD3EVjEiEzQNs87